1. Electronic Devices and Circuits Laboratory:

The goal of the laboratory is to develop the student's ability to state of art design and conduct experiments, analyze and interpret data, ability to design a system which meets the desired specifications, ability to identify, formulate, and solve engineering problems, ability to use the techniques, skills and modern engineering tools necessary for engineering practice. Each lab experiment has a design part, simulation and an actual experimental verification in the laboratory (bread-boarding/soldering). The basic objective is to give hands-on experience in the design and implementation of analog and mixed-signal circuits.

Equipment's:
1. CNC Machine for PCB and Antenna Prototype Fabrication
2. Logic Analyzer
3. Mixed Signal Oscilloscope
4. Digital Storage Oscilloscope
5. Cathode Ray Oscilloscope
6. Arbitrary Function Generator
7. DC Power Supply
8. NI Elvis II Series Prototyping Board
9. Power Project Boards
10. Soldering Station
11. Digital Multimeter
12. Trainer Kits includes
a) Transistor Applications
b) Networks and Bridges
c) A/D and D/A Converter
d) Op-amp.
Softwares:
1. B2SPICE-Analog, Digital and Mixed-Signal Simulation Software.
2. Proteus VSM and PCB Embedded Design and Simulation Software.
3. NI Multisim Software.
2. Digital Electronics Laboratory:
The experiments corresponding to the Digital Electronics laboratory are Combinational Logic design using basic gates (Code Converters, Comparators),Combinational Logic design using decoders and MUXs, Arithmetic circuits, Flip flop circuit etc. Through the experiments being performed at this laboratory, student will be able to design the simple logic circuits and test/verify the functionality of the logic circuits, they will have a thorough understanding of the fundamental concepts and techniques used in digital electronics, and they will be able to understand, analyze and design various combinational and sequential Circuits.
Equipment's:
1. Digital Circuits Development Platform.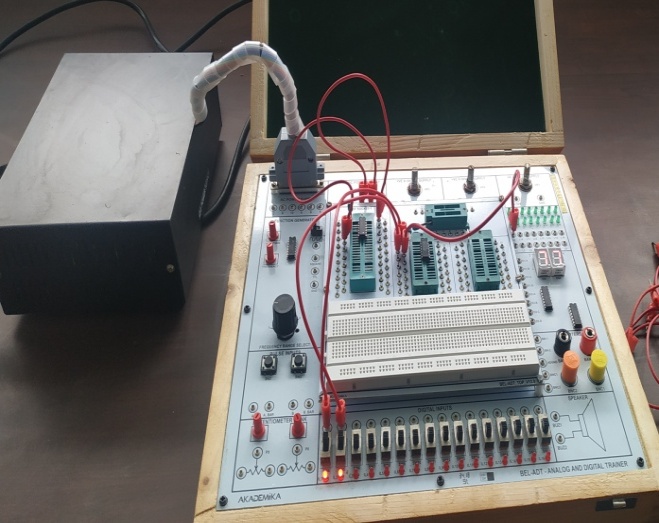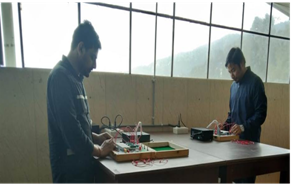 3. Microprocessor and Microcontroller Laboratory:
The corresponding Laboratory is equipped with various microprocessor/microcontroller training systems that can be utilized for performing relevant experiments such as Assembly language and Timer programming using status check and interrupts, LCD interfacing to 8051, Motor Speed control using microcontroller, studying current microcontroller e.g. ATmega, Arduino etc. From this laboratory, students will be able to develop the assembly level programming using instruction set, analyze how different I/O devices can be interfaced to processor and will explore several techniques of interfacing, design projects for practical applications like home automation system, Digital Clock etc.
Equipment's:
1. 8051 Microcontroller Kits.
2. 8085 Microprocessor Kits
3. 8086 Microprocessor Kits.
4. Interfacing Kits includes-
a) 8237 DMA Controller,
b) 8259 PIC
c) Traffic Light Controller
d) Stepper Motor
e) Display Study Card-Scanning
f) A/D and D/A Converter- 8 Channel
Softwares:
1. Proteus VSM and PCB Embedded Design and Simulation Software.

4. Communication (Analog and Digital) Engineering Laboratory:
To analyze the analog communication systems, various experiments are carried out as generation and detection of different continuous wave modulation techniques such as amplitude modulation (e.g., DSB-FC, DSB-SC, SSB), angle modulation (e.g., frequency modulation (FM) and phase modulation (PM)). Besides, pulse modulation techniques (e.g., pulse amplitude modulation (PAM), pulse width modulation (PWM) and pulse positioning modulation (PPM)) are also performed. Besides, different multiplexing and demultiplexing schemes are also experimentally studied with the implementation of the modulation schemes. Experiments to study digital communication systems are also carried out in this laboratory such as generation and detection of different pulse code modulation techniques (e.g., PCM, DPCM), delta modulation (DM)). Besides, different line coding methods used to transmit digital data over a transmission line, are experimentally studied such as unipolar, polar and Bipolar coding.
Equipment's:
1 .USB Spectrum Analyzer
2. NI USRP Wireless Communication Module.
3. Digital Storage Oscilloscope
4. Trainer Kits includes
a) Basic Digital Communication System
b) Advanced Digital Communication System
c) Analog Communication Lab kit
d) GFSK/GMSK Modulator/Demodulator kit.
e) Frequency Modulation and Demodulation
f) DSB/SSB AM Transmitter and Receiver
g) Quadrature Phase Shift Keying (QPSK) Modulation and Demodulation
h) Code Division Multiple Access (CDMA)
i) Time Division Multiplexing (TDM)-Pulse Amplitude Modulation (PAM) and Demodulation
j) Time Division Multiplexing(TDM)- Pulse Code Modulation (PCM) Transmitter and Receiver
Softwares: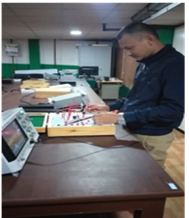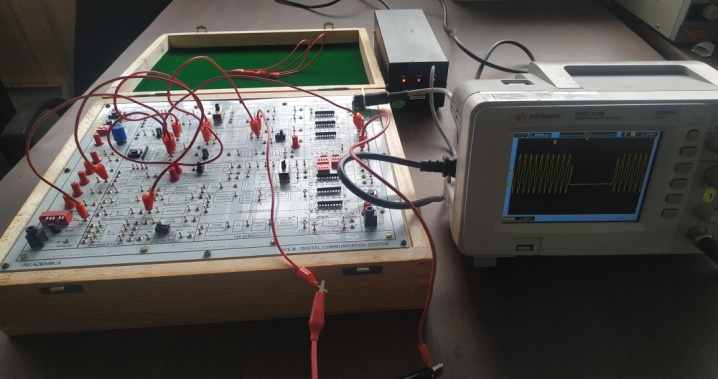 5. Electromagnetics and Antenna Engineering Laboratory:
The corresponding laboratory is suitable for the students to implement their knowledge achieved in electromagnetics field theory and antennas. With the use of transmission line systems as well as coaxial cables, standing waves are observed followed by measuring of standing wave ratio and reflection under various load conditions. Frequency and wavelength measurement of unknown signals are also carried out using the standing waves. Attenuation characteristics can be achieved for the coaxial transmission lines. Measurement of radiation patterns of various planar and non-planar antennas such as wire monopole antenna, dipole antenna, log-periodic antenna, circular loop antenna, aperture antenna such as horn antenna etc. are carried out in both the orthogonal planes.
Equipment's:
1. Vector Network Analyzer with Spectrum Analysis
2. Antenna Pattern & Gain Measurement Unit which contains:
a) USB Spectrum Analyzer
b) Horn Antennas
c) Software Controlled Turn Table with accessories
3. Broadband Ridge Horn Antenna
4. Trainer kits includes
a) Antenna Training Unit
b) Doppler Radar
c) Advanced Transmission Line
d) Co-Axial Transmission Line.
5. Pyramidal Foam Absorbers
Softwares:
1. Radar Simulation Software.
2. ANSYS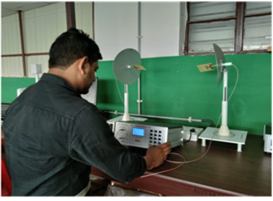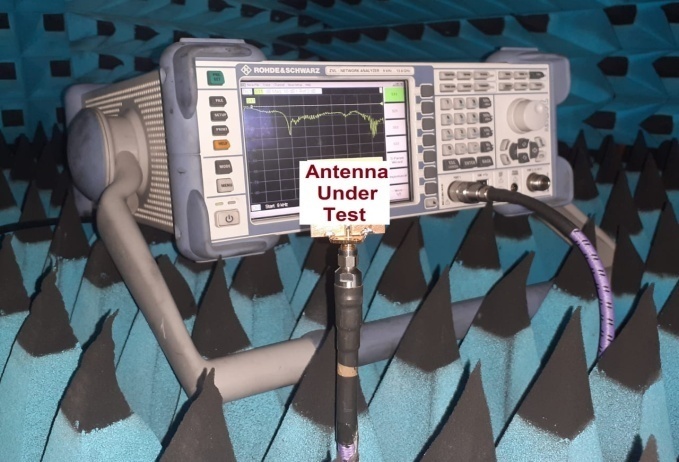 6. Microwave Engineering Laboratory:
Microwave Engineering Laboratory is suitable for performing experiments such as studying the characteristics of various microwave passive components including Directional Coupler, Branchline Coupler, Rat Race coupler, attenuator, ring resonator, power divider etc. in the microwave frequencies up to 3 GHz. Besides, frequency response of microwave oscillator such as GUNN diode and Reflex Klystron is observed in the waveguide test bench. Design and simulation of various planar and non-planar antennas operating in the microwave frequencies (microstrip patch antenna, slot antenna) are carried out in this laboratory followed by analysis of the antenna parameters (VSWR, radiation pattern, gain) using High frequency simulators.
Equipment's:
1. Microwave test bench equipment that contains:
a) Digital Gunn Power Supply
b) Gun Oscillator X band
c) Pin Modulator X band.
d) Variable Attenuator, Wave guide detector etc.
2. Microstrip Integrated Circuit.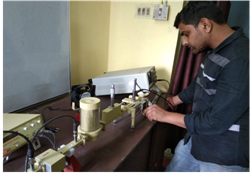 7. Signal Processing Laboratory:
The Signal Processing Laboratory focuses in the areas of Speech and Signal Processing, Image Processing, Biomedical Signal Processing, Natural Language Processing, Pattern Recognition, Automatic Speech Recognition, Computer Vision. Through the experiments being performed at this laboratory, students will have a understanding of the fundamental concepts and techniques used in Signal Processing and they will be able to understand and analyze its applications.
Softwares:
8. Digital Signal Processing Laboratory:
The experiments corresponding to the Signals and Systems and Digital Signal Processing are performed in this Laboratory. The experiments including fundamental signal operations, analysis of LTI systems (linear convolution), Fourier analysis of periodic and non-periodic signals both in continuous and discrete –time, frequency domain representation of signals etc. are performed for the signals and systems laboratory. The digital signal processing (DSP) lab has both software and a hardware component. In the software part, students carry out a number of simulations, illustrating some of the fundamental concepts and applications of digital signal processing, such as quantization, sampling and aliasing, block processing by convolution using overlap save and overlap add method, signal enhancement and noise reduction filters, direct, canonical, and cascade realizations of digital filters, spectral analysis by the DFT and FFT, the design of IIR, and FIR filters for band pass, band stop, low pass and high pass filters, and digital audio effect applications. The hardware part of the lab illustrates the programming of real-time signal processing algorithms. Through this laboratory the students would be able to understand the handling of discrete/digital signals, the basic operations of signal processing, the design and analyze linear time-invariant (LTI) systems and compute its response, analyze the spectral characteristics of signals using Fourier analysis, analyze the systems using Laplace transform and Z-transform, the design IIR, and FIR filters for bandpass, band stop, low pass, and high pass filters and design the signal processing algorithm.
Equipment's:
1. Digital Signal Processing Development Board
2. Digital Storage Oscilloscope.
Softwares: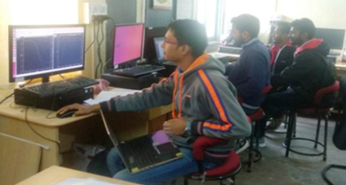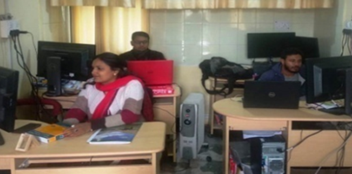 9. VLSI Design Laboratory:
The VLSI Design Laboratory is equipped with state-of-the-art computational facilities and has access to industry-standard EDA tools like Cadence Virtuoso, Mentor Graphics, Xilinx Vivado, Synopsis, etc. B.Tech and M.Tech practical courses related to VLSI are conducted in this laboratory. In this lab, the complete VLSI design cycle consisting of the steps like schematic design, floor-planning, placement, routing, parasitic extraction, and post-layout simulation can be performed for analog, digital or mixed-signal circuits. Students can also perform experiments related to the design and synthesis of combinational circuits, sequential circuits, FSM using VHDL or Verilog in this laboratory.
Softwares:
1. Mentor Graphics Modelsim PE 10.1 (VHDL & Verilog Software)
2. Cadence (University Bundle, Analog & Digital)
3. Mentor Graphics Backend tools
4. Synopsys EDA Tool
5. XILINX
6. FPGA Board

10. Optical Communication Laboratory:
Various experiments related to optical communication can be performed in this laboratory with training systems such as optical network system, Erbium Doped Fiber Amplifier Training System, Fiber optic trainer kit for glass and plastic fiber, Fiber Optic, Connector and Splicing Kit etc. Such equipments are useful for studying chromatic dispersion, Diode laser characterization, Bragg Grating characterization, observation of various modes, Numerical Aperture Measurement of Optical Glass Fiber etc. The experiments are useful for the students in implementing their knowledge regarding optical communication systems practically.
Equipment's:
1. WDM and BRAGG Granting Module
2. Trainer Kits includes:
a) Fiber Optic Network Lab
b) Erbium Doped Fiber Amplifier
c) Advance Fiber Optic Communication Lab
d) Fiber Optic for Glass and Plastic
e) Physics of Fiber Optic Lab
3. Fiber Connector and Splicing Tool Kit
11. Internet of Things (IoT):
The Internet of Things (IoT) laboratory is useful for the UG, PG students to cope up with the current technologies. This laboratory is equipped with systems such as IoT mote with highly integrated System on Chip compliant to IEEE 802.15.4, RF subsystem and Security subsystem, Wi-Fi mote with wireless MCU with built-in Wi-Fi protocol stack targeted for IoT, SOC based device for Bluetooth Low Energy based applications, Sensor mote with various sensors such as Temperature & Relative Humidity Light Intensity, Proximity Sensing.
Equipment's:
1. IOT Mote
2. Wi-Fi Mote
3. Ble Mote
4. Sensor Mote
5. Wireless IP Network Gateway for Zigbee.